Academics
---
We're creating the next generation of innovators, advocates, caregivers and life-savers. Connected by our values and unwavering desire to do more, we're leading the way for a better future for all.
Five schools, united together
Drawing from our vast network of scientists, educators and clinical partners from five schools, we deliver real-world solutions and highly qualified graduates who are equipped to address the health needs of an ever-changing population.
Unlimited academic opportunity
With educational degrees and programs in dentistry, medicine, nursing, pharmacy, public health and medical sciences, we have something for everyone. Become part of a welcoming, inclusive environment that educates the next generation of leaders, delivers the best care and produces life-saving discoveries.
Browse our degrees and programs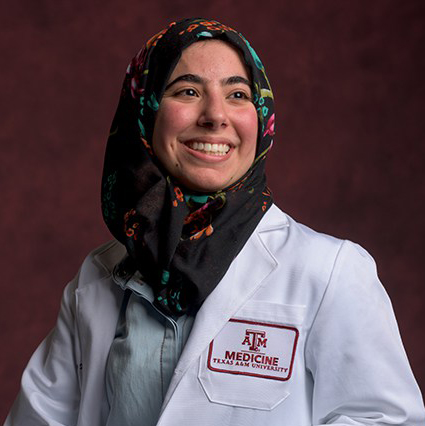 "

My goal through EnMed is to develop a device or process that will aid cardiac surgeons or interventional cardiologists to better treat those born with congenital heart defects and allow for fewer invasive surgeries, or perhaps even eliminate the need for them."
Lamees Nihum
EnMed pilot student
Meeting of the minds
From interprofessional training and education, to innovative programs like Engineering Health and Healthy South Texas, we're reinventing health professions education. For us, it's a comprehensive approach to how faculty teach, how students learn and how health care is delivered.
A culture of collaboration
We go beyond putting students from different disciplines in a room together. Here we have an educational system that trains health care leaders in interdisciplinary settings, allowing them to realize their full potential as members of holistic health care teams.
Through simulated experiences, mission trips across the world and groundbreaking programs, we empower the next generation of leaders who won't accept the status quo.
Transformational educators
Highly accomplished clinicians, researchers and distinguished scholars are instrumental in producing graduates who are amply prepared for the realities of an evolving health care landscape. Get to know the dedicated faculty who support our mission.
Become part of our story.
As required by Texas Education Code, the Board of Regents of The Texas A&M University System will hold a public hearing to receive input from students regarding the proposed new undergraduate tuition and fee structure as shown in Agenda Item 1.1 for Texas A&M University, Texas A&M University at Galveston, and Texas A&M Health Science Center to be effective with the Fall 2023 Semester. This hearing is for students to provide input to the Board of Regents and will be scheduled during the November 10, 2022, Board Meeting, Memorial Student Center (MSC), Bethancourt Ballroom 2300 (D&E), 275 Joe Routt Boulevard, Texas A&M University, College Station, Texas. Students wishing to provide public testimony on proposed increases should follow the guidelines as set forth-in Policy 02.01 (paragraph 2) posted on the Board's website.