Community
---
Health care begins long before a patient enters the exam room, and opportunities for effective care without brick-and-mortar are vast. By shedding the constraints of the past and utilizing our unique makeup, we've created a multifaceted, community-based approach to preventive health.
Value-based care
Our responsibility is to improve lives through education and service. Through our interprofessional degree programs we prepare graduates to provide value-based care. With an all-hands-on-deck approach, and in collaboration with partners across the state, we're mobilizing health professionals and equipping community members to take personal responsibility for their own health.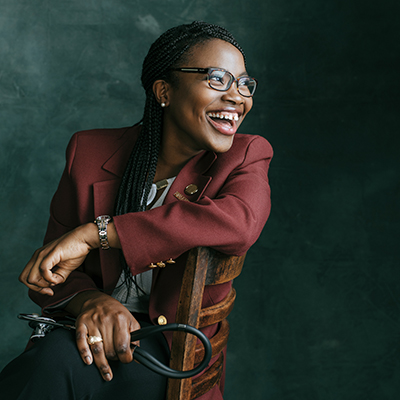 "

Health care is my passion. At the end of my life, I want to say that I have helped a country, city, community or village shift from poor to quality health care."
Eunice Fafiyebi '17
School of Public Health graduate
Empowering individuals
Ricardo Cantu lived with hepatitis C for 20 years before a cure was developed. However, the cost for a full course of the medication would cost him $96,000. As a single parent of two teenagers, he knew he needed to do all he could to get the cure, and the Medication Assistance Program through Texas A&M Healthy South Texas came through. Now, Cantu is hepatitis free, is here for his children and living a longer life.
Explore Healthy South Texas
Our impact in Texas
We're creating an effective community-based model for better health. Our network crosses all sectors for the greatest impact, from hospital systems and private corporations to counties, municipalities and school districts.
Our progress to date:
total contacts
potential savings over a lifetime
saved in medical costs
Closing the mental health care gap
Texas has a need for mental health care greater than any other state. More than 10 million Texas residents live in mental health care professional shortage areas. The School of Public Health is helping professors and students across Texas A&M to bring telehealth resources to patients and expand research opportunities where it's needed most.
Explore Telehealth Counseling
A two-fold mission
Boots-on-the-ground programs don't just help patients, they offer unique opportunities to educate the next generation of health care leaders. When students become part of this effort they are exposed to new patient populations, different professional perspectives and a realistic understanding of the importance of all the health sciences working as one unit, for one purpose.