Ashok K. Shetty, PhD
Professor, Molecular and Cellular Medicine
Associate Director, Institute for Regenerative Medicine
Research Career Scientist, Olin E. Teague Veterans' Medical Center
Component
Specialties
neuroscience, military health
military health, brain, traumatic brain injury, epilepsy, Gulf War Illness, Alzheimers
Contact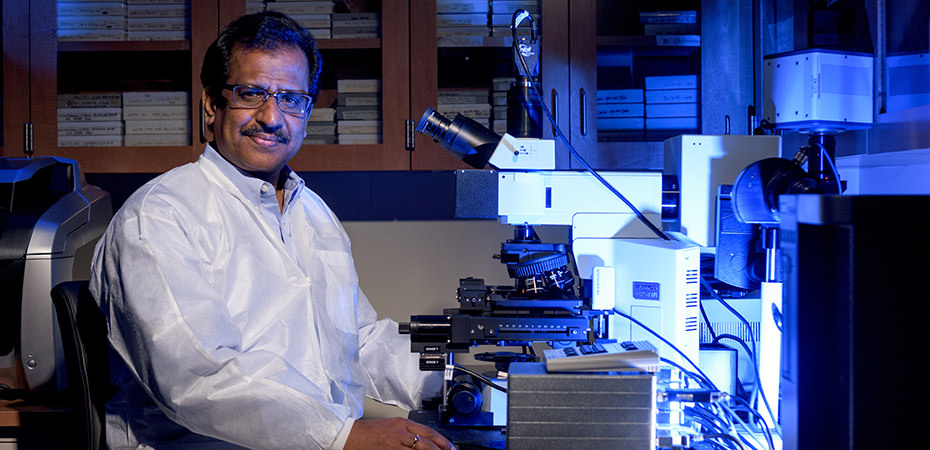 About Dr. Shetty
Dr. Shetty's laboratory is interested in developing clinically applicable strategies that are efficacious for enhancing brain function using a variety of stem cells, stem-cell derived exosomes and drugs. The model systems include brain aging, traumatic brain injury, temporal lobe epilepsy, Alzheimer's disease and Gulf War illness.
Dr. Shetty has published over 120 peer-reviewed research articles and has received over 7,700 citations with an h-index of 49. Dr. Shetty has the distinction of serving on two different National Institutes of Health (NIH) Study Sections as a chartered member. These include Clinical Neuroplasticity and Neurotransmitters (CNNT) panel from 2004-2008, and Developmental Brain Disorders (DBD) panel from 2010-2016.
Dr. Shetty received his PhD in Neuroscience from All India Institute of Medical Sciences, New Delhi in 1990. He received his postdoctoral training from the Duke University Medical Center, Durham, NC from 1992-1995. He served as a faculty member (Assistant Professor to Full Professor) at the Duke University Medical Center for 16 years (1995-2011).
Dr. Shetty is Co-editor-in-chief of the journal Aging and Disease and associate editor of journals, Neurogenesis, Frontiers in Molecular Neuroscience, and Frontiers in Neurology. Dr. Shetty also serves as an editorial board member of many international journals, which include Stem Cells, Aging Cell, Frontiers in Neuroscience, Frontiers in Aging Neuroscience, and Cell Transplantation.
Vital Record news coverage