John P. Erwin, III, MD, FAAC, FAHA
John P. Erwin, III, MD, FAAC, FAHA
Component
Specialties
internal medicine, heart health
cardiology, heart disease
Contact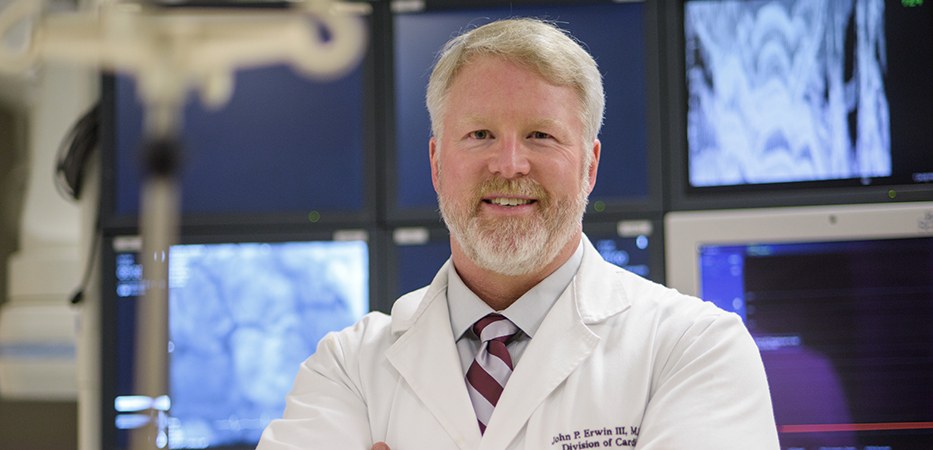 About John P. Erwin
John P. Erwin, III, MD, FAAC, FAHA, FACP joined the senior staff of Baylor Scott & White Health and Texas A&M College of Medicine in 1998. He is a clinical professor and department chair for the Department of Internal Medicine at the Texas A&M College of Medicine. He previously served as assistant dean for Continuing Medical Education at the school. Erwin has an international reputation as an expert in the fields of clinical cardiology, valvular heart disease and quality improvement.
Dr. Erwin received his Bachelor of Science in biology-pre-med emphasis from Stephen F Austin State University in 1988 and Doctor of Medicine from Texas A&M University in 1992. He completed his internal medicine residency and cardiology fellowship at the Mayo Clinic in Rochester, Minnesota in 1998.
As a graduate of the Intermountain Healthcare Advanced Fellowship in Quality Improvement in Healthcare, he serves as system co-chair for Baylor Scott & White's Cardiovascular Best Practice Committee. He has served on several national committees of the American College of Cardiology (ACC) and the American Heart Association. Currently, he is chair of the ACC Core Curriculum Sessions for the annual scientific sessions and is a member of the Integrated Learning Committee. Erwin is the president of the Texas Chapter of the ACC and serves as governor for the State of Texas to the ACC Board of Governors.