Five colleges, united together
Drawing from our vast network of scientists, educators and clinical partners from five colleges, we deliver real-world solutions and highly qualified graduates who are equipped to address the health needs of an ever-changing population.
Unlimited academic opportunity
With educational degrees and programs in dentistry, medicine, nursing, pharmacy, public health and medical sciences, we have something for everyone. Become part of a welcoming, inclusive environment that educates the next generation of leaders, delivers the best care and produces life-saving discoveries.
Browse our degrees and programs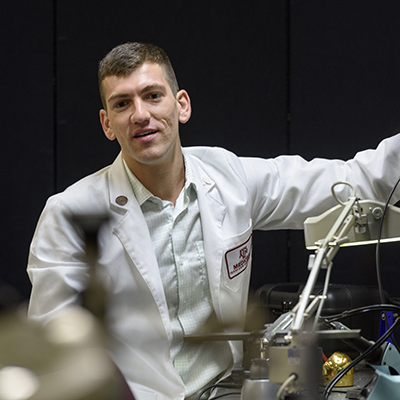 "

The EnMed program helped me choose A&M as my medical school. I had many long conversations with faculty to decide if a combined approach was best, or if I should just pursue medical school. But when I think about twenty or thirty years down the road, the need for doctors who understand engineering topics isn't going away. "
Kenneth Livingston
EnMed pilot student
Meeting of the minds
From interprofessional training and education, to innovative programs like Engineering Health and Healthy South Texas, we're reinventing health professions education. For us, it's a comprehensive approach to how faculty teach, how students learn and how health care is delivered.
A culture of collaboration
We go beyond putting students from different disciplines in a room together. Here we have an educational system that trains health care leaders in interdisciplinary settings, allowing them to realize their full potential as members of holistic health care teams.
Through simulated experiences, mission trips across the world and groundbreaking programs, we empower the next generation of leaders who won't accept the status quo.
Transformational educators
Highly accomplished clinicians, researchers and distinguished scholars are instrumental in producing graduates who are amply prepared for the realities of an evolving health care landscape. Get to know the dedicated faculty who support our mission.
Become part of our story.